ServiceTonic obtains IVER® certification from PinkVERIFY
ServiceTonic obtains the PinkVERIFY ITIL certification for the Incident Management, Problem Management and Request Management processes, confirming its alignment with ITIL® best practices.
This means that ServiceTonic 5.0 has been certified as software compatible with ITIL® 2011, through the PinkVERIFY program from PinkElephant.
The PinkVERIFY certification is the most mature and rigorous IT service management tools verification program in the world and objectively evaluates the alignment of the software with the ITIL® processes. In addition, it is the highest level of recognition given to providers that offer ITSM tools.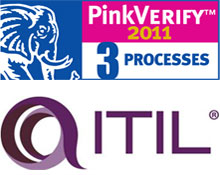 To obtain the PinkVERIFY certification, the software manufacturer must comply with 100% of the mandatory and integration criteria in each of the certified processes.
This certification confirms the commitment of ServiceTonic to provide an easy-to-use and configure without programming solution, highly flexible and aligned with ITIL®, providing the necessary support to IT departments so they can get the most out of ITIL best practices ®.
* ITIL® is a registered trademark of AXELOS Limited.