Your client's opinion is very important
Help Desk Software | Customer survey | Customer service
Customer survey creation
Knowing your clients' opinion is invaluable to improve de quality of your services.
A simple personalized survey will provide you insight on their thoughts about your company, allowing you to offer an excellent customer service.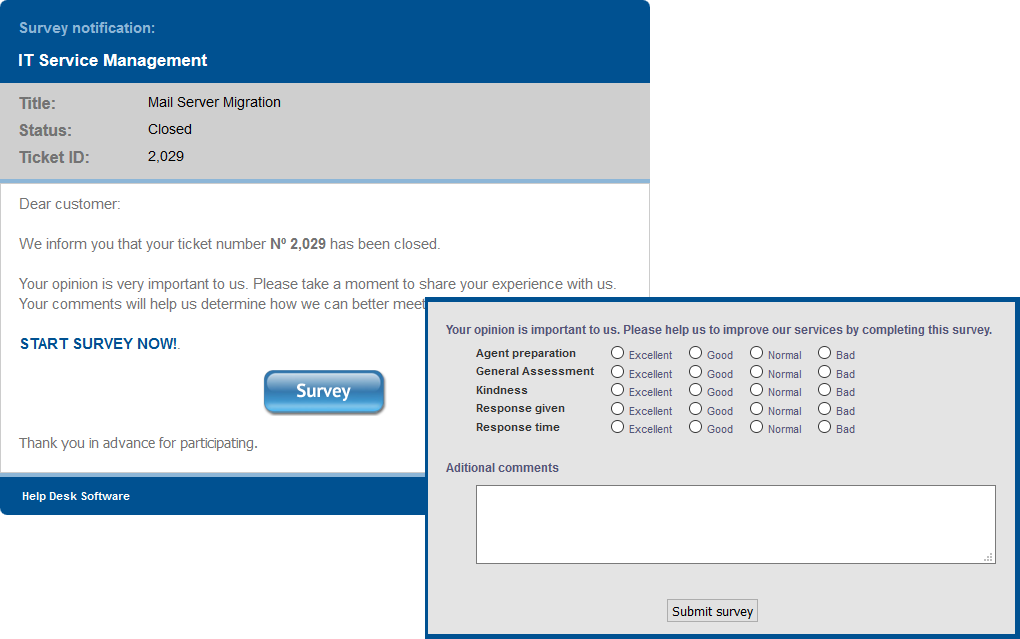 Learn about your customers' satisfaction level
Surveys for clients
Customized surveys that you can develop without programming measure user, customer and agent satisfaction, making it easy to create, manage and review customer feedback.
Surveys
Create dynamic surveys synchronized to tickets.
Sending Surveys
Sending surveys automatically when closing a ticket.
Control Discontent
Directly escalate cases of dissatisfaction to the manager in charge.
Optimize your Customer Service
Find out your customers' opinion thanks to these satisfaction surveys.
Easy Content Configuration and Criteria
Define the content of surveys with the various questions and sending criteria available in an easy way.
Define the criteria for surveying your customers: randomly, based on criteria or for every ticket.
Start getting feedback from your customers
With ServiceTonic®' s satisfaction surveys you will be able to learn about your customers' or users' opinions, which will allow you to further optimize the service you can offer them.