Contract management
Help Desk Software | Ticketing Management | Customer service
Service Contract Life Cycle Management
ServiceTonic's Help Desk allows you to manage maintenance contracts and thus comply with your customers' contracted services.
This enables you to offer added value for your customers.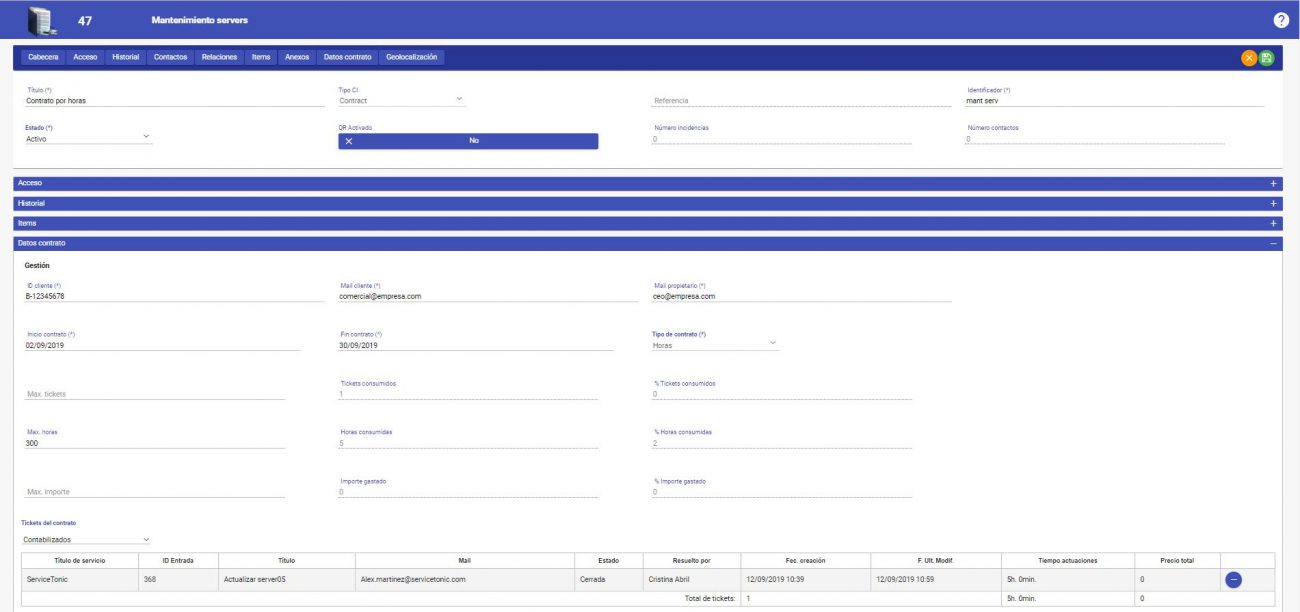 Contract management
View the contracts of one or more companies in the CMDB
Contract management allows the automatic accounting of the contract execution and regulates the agreed time and service parameters' compliance.
You can automatically assign contract types for each ticket based on different criteria or manually assign a contract to a ticket.
The automatic management of contracts also allows the client to visualize the available hours of a contract at all times, and to set alerts at different points of the contract's state from the User Portal.
Contract definition by hours
You can define the maximum number of hours that can be used for a particular contract
Contract definition by tickets
You can define the maximum number of service tickets that will be supported for a particular contract.
Contract definition by time
You can define the specific duration, without limit of hours or tickets, which the contracted support will be provided for. For example, in the case of maintenance and guarantee periods, we can define a duration of 6 months, a year, etc.
Start now
Find out how ServiceTonic® supports you delivering superior service, working efficiently, and having happier customers.