The digital transformation and digitization of companies is essential to obtain benefits and to adapt companies to modern times, times in which teleworking is already a reality, social relationships are developed online, and everyone has technology in the palm of their hand. ServiceTonic© offers an integrated solution, covering the needs that arise in companies when digitizing their services.
Before we begin, let us talk about the concepts of "digitization of companies" or "digital transformation", since there is a lot of talk about it, but many businesses are still unaware of the benefits it can bring.
What is the digital transformation of companies?
To define the concept of "digital transformation" we could give as many definitions as there are people talking about this topic at the moment, which is many, but at ServiceTonic© we have selected the two that we believe are most representative:
Digital transformation is the application of technology to enable companies to achieve objectives, which would hardly be achievable without the use of digital technology.
"Digital transformation marks a radical rethinking of how an organization uses technology, people and processes to improve business efficiency." – George Westerman, MIT researcher and author of Leading Digital: Turning Technology Into Business Transformation
Based on these two definitions, we see that the digital transformation of companies consists of reinventing the company by using technology in all aspects and defining a business strategy that changes work dynamics taking into account the new rules derived from the use of digital technology.
Covid-19 has accelerated all these processes: companies have had to terminate on-site, and many have rushed the digitization of their services in order to remain competitive while providing excellent service to their customers and facilitating teleworking for their employees.
A company's digital transformation will be underpinned by a digitization platform that enables it to be customer-centric, placing the customer at the center of all its decisions, while pursuing excellence in its operations and services.
This digitization platform can be configured by one or more applications to improve customer experience and communication, automate business processes, have control over all operations and assets used, exploit information for decision making, manage corporate knowledge and improve collaboration between work teams.
For digital transformation to be effective, it must be comprehensive, so that it ends up bringing benefits to the entire ecosystem of the company, including customers, employees, partners and, of course, the company itself, allowing it to be more competitive.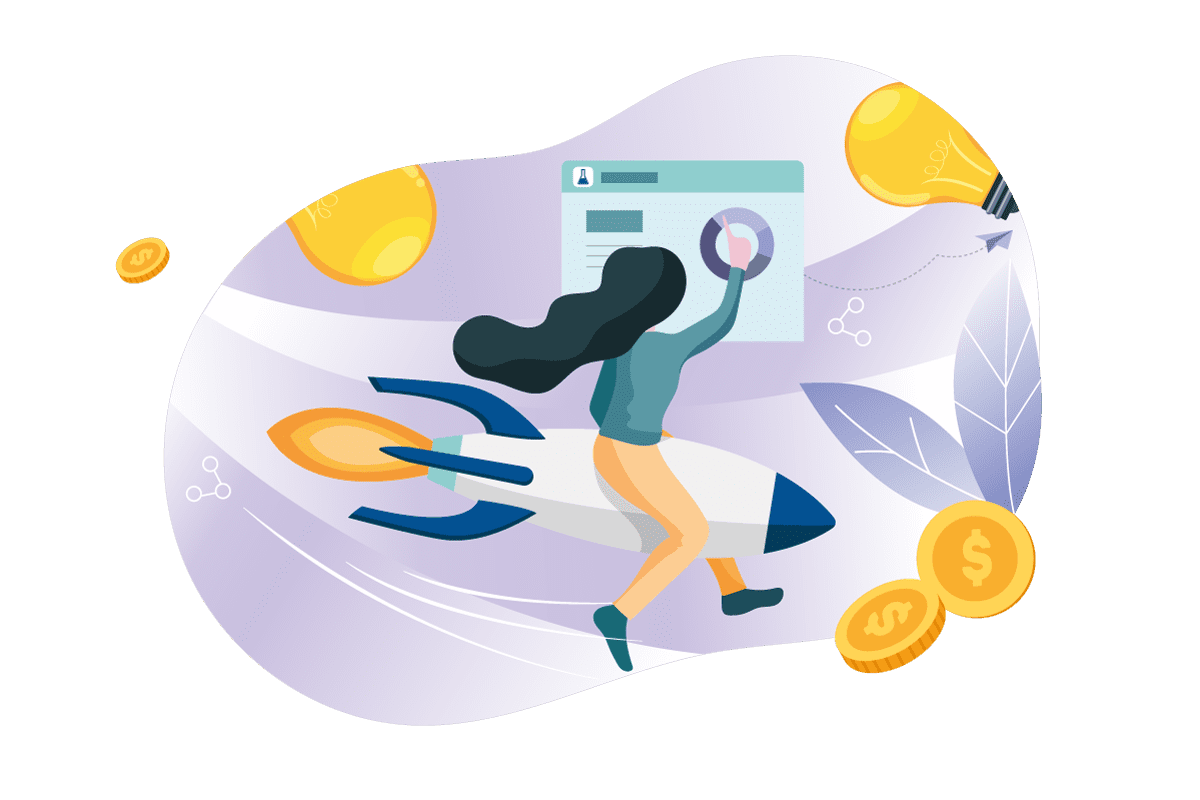 Critical success factors for digital transformation
There are several factors, as well as several actors, that will favor the digital transformation of a company.
Leadership
The Digital Transformation of a company has to be driven by its management, and it has to be aligned with its mission, vision and values.
It is important that the company's management gets involved in this project and designates a person to lead it, as well as involving the entire organization, starting by communicating the digital transformation plan to all employees.
Clear objectives
Defining what the Digital Transformation objectives are and sharing them with the entire organization will help make the Digital Transformation process more efficient.
Agile and incremental execution
Approaching the digitalization project in an agile way allows faster progress and quicker results ("quick wins"). Do not do everything at once, but in an incremental way, and start with those areas or processes whose digitization will generate a greater return will also help to drive the digital transformation more effectively.
Change orientation
Digital transformation is change. Being change-oriented and overcoming objections to change, which there are bound to be, is essential.
New roles
Digitalization has also brought new roles within the organization such as the CDO (Chief Digital Officer) or the DTO (Digital Transformation Officer). Boosting these new roles will enhance the digital transformation process.
Focus on the customer
It is important that a company's digital transformation puts the customer at the center of its digitalization strategy.
Clearly defining customer profiles, analyzing all their possible interactions with the company, and trying to improve the customer experience at all times will help achieve more satisfied customers.
In this specific case, the customer can be external or internal, employees of the organization acting as customers of a certain department (IT, HR, General Services, …).
Digitalization platform
Evidently, technology is a key element in the Digital Transformation process and the company will need to select the right technology and have the necessary resources to manage it.
How can ServiceTonic© support the digital transformation of your company?
As we have just mentioned, technology will be one of the key elements in the success of a company's digital transformation.
When applying digital transformation to the different company areas, we may be tempted to use different technologies or solutions for each department or management area to be digitized. Initially, this may seem interesting, since each area will use the technology that best suits their needs, however, it can also end up being unmanageable and full of inefficiencies because the synergies between the different departments will not be taken advantage of, plus the maintenance of the different solutions can end up being extremely costly, complicated and inefficient.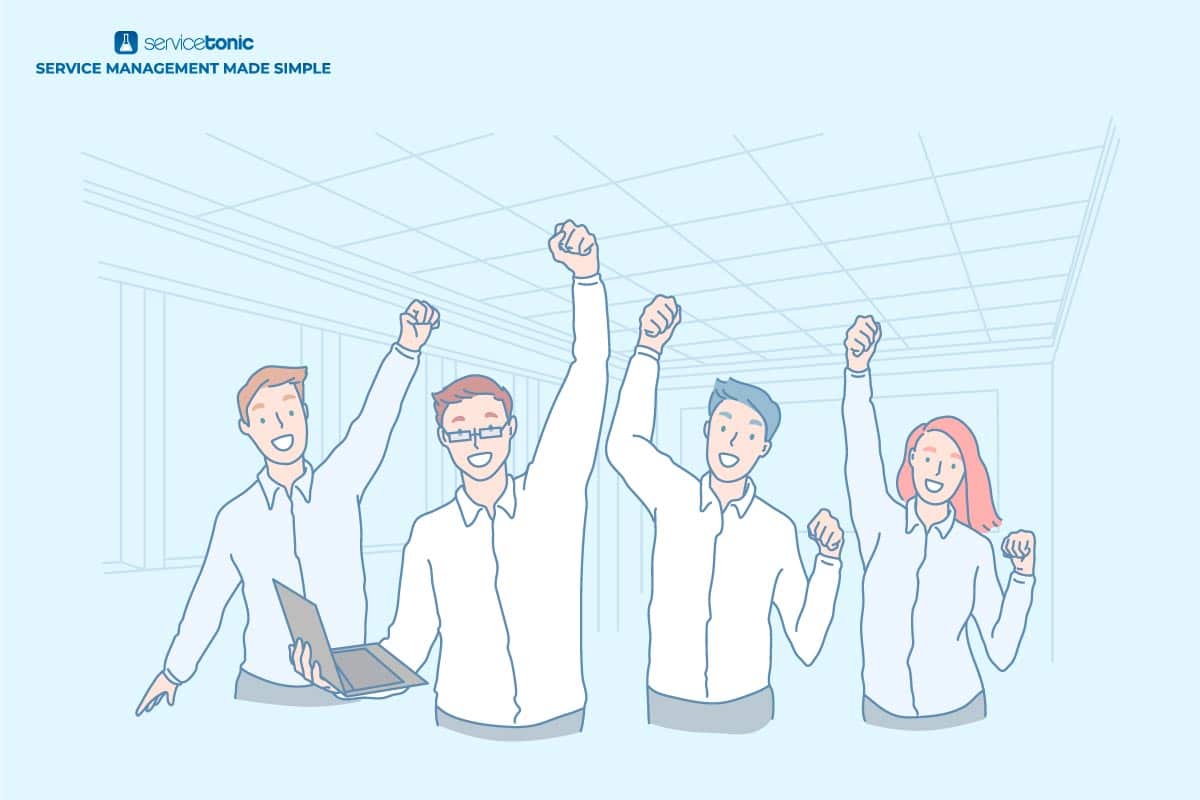 In response to this problem, ServiceTonic© provides a Service Digitization Platform, which, under the no-coding philosophy, answers to the digitization needs of multiple departments using the same application and in an agile way.
The ServiceTonic© Digitization Platform provides a series of functionalities that can be applied to any business area to be digitized. Among these features we highlight the following:
Multichannel Service Desk: In the current digital era, communication with users or customers should be as fluid as possible, for this reason ServiceTonic provides seamless communication through the main communication channels including Telephone, Email, Web Portal and Chat.
Ticketing System: Record every interaction with the customer and efficiently manage their requests, incidents, changes, and associated tasks.
Customer Portal: The customer portal improves the customer experience by providing a single point of access to the service from which the customer can send their requests, check the status of the same and access all kinds of information enhancing self-service.
Chatbot – Tonic: Perhaps the most iconic element of digitalization. Tonic is ServiceTonic's virtual assistant that helps improve the customer experience, and takes care of the most repetitive issues, reducing the workload for the organization's teams.
Process automation: In the digital era, automation is a key element to increase work efficiency. ServiceTonic provides business rules and workflows that enable process automation.
Information analysis: Digital Transformation generates infinite new data. The indicators, dashboards and reports provided by ServiceTonic help turn that data into information.
Knowledge Management: Knowledge is one of the main assets in the digital era. ServiceTonic's Knowledge Database captures all knowledge, structuring it an efficient way and making it available to both work teams and customers.
SLAs: Service Level Agreements ensure that things are done within the established deadlines.
Quality surveys: Customer satisfaction should be one of the main focuses of digital transformation, and quality surveys help to measure the level of customer satisfaction.
Collaboration – ForumTonic: In a distributed work environment, ForumTonic allows team members to collaborate and exchange information in an agile way regardless of their location: in the office, teleworking or any anywhere else.
Integration: In a digitized world, the need to integrate different applications is greater than ever. ServiceTonic provides different elements that facilitate integration between applications.
Inventory and asset management: ServiceTonic maintains an inventory of the different assets (applications, computers, network equipment) used by the organization and provides tools to efficiently manage the entire technology infrastructure that supports the digital transformation.
You can read the complete list of functionalities of our digitalization platform.
In addition, in order to adapt to the particular needs of each business area, the ServiceTonic Service Digitization Platform allows for a quick configuration, under the No-Coding philosophy, without the need for programming. This allows to accelerate the digitization processes and also a quick adaptation to future changes.
This combination of broad functionality, with a high level of configuration without the need for programming and the possibility of applying it to the digitization of any business area, positions ServiceTonic as a strategic ally for any company that wants to face digital transformation effectively.
Benefits of digitizing your company
There are numerous benefits to digitizing companies and in fact a very clear example has been the situation caused by COVID. Those companies that have best adapted to the new situation caused by COVID, are the ones that were in a more advanced process of digital transformation. These companies have continued to operate in a relatively normal way, serving their customers and teleworking from the outset, but obviously the benefits of digital transformation go far beyond that.

Digital transformation puts the focus on the customer, and the customer benefits from a better user experience and improved service, with multiple self-service options. This generates happier and more loyal customers benefiting the organization as well.
Increased productivity
This is another benefit of digital transformation, and arguably, one of the most significant. Digitizing the day-to-day tasks of the different work teams allows them to work much more efficiently, increasing productivity and improving results.
More control and better management
Digital transformation brings access to more data and indicators in real time on each of the business areas. This allows for better management and decision making as they are based on more accurate and immediate data.
Attracting talent
The digitization of the company improves its online reputation, something that is valued by both customers and internal staff.
Professionals know that they will be able to better develop their potential in a company that offers them digitized environments and they increasingly value being able to develop their professional careers in companies that are committed to digitization and that facilitate teleworking.
Transform your company with ServiceTonic©
If you want to learn how to digitize your company with our digitization platform, request a personalized demo. A specialized agent will show you how our software can fulfill the digital transformation of your company.