Process automation in companies accelerated during 2020 as one of the consequences of the pandemic caused by the coronavirus. Labor as we knew it changed during that year, telecommuting became relevant, and companies realized the importance of digital transformation, and, without a doubt, process automation became essential.
In the article below we will detail how companies can automate processes, what aspects should be kept in mind when creating automations of these processes and what benefits it brings, plus how ServiceTonic enables all types of businesses and their departments to achieve this automation.
The goal of process automation in a company
The goal of automating processes, which until now could be performed manually, is to save costs, time and allow agents to focus on more productive tasks in their daily work. In addition, automation also avoids human errors that occur when working manually.
Save costs, time, and allow your agents to focus on more productive tasks thanks to process automation.
In order for a company to automate processes, it must keep in mind:
Which processes can be automated
Assess all the steps involved in the process and analyze if there are any that can be eliminated or simplified.
Which agents are involved in the process
What benefits can each automation provide
How to evaluate the result of these automations
When managers have a clear understanding of these points, the company can start to think about how to automate those processes that have been decided upon.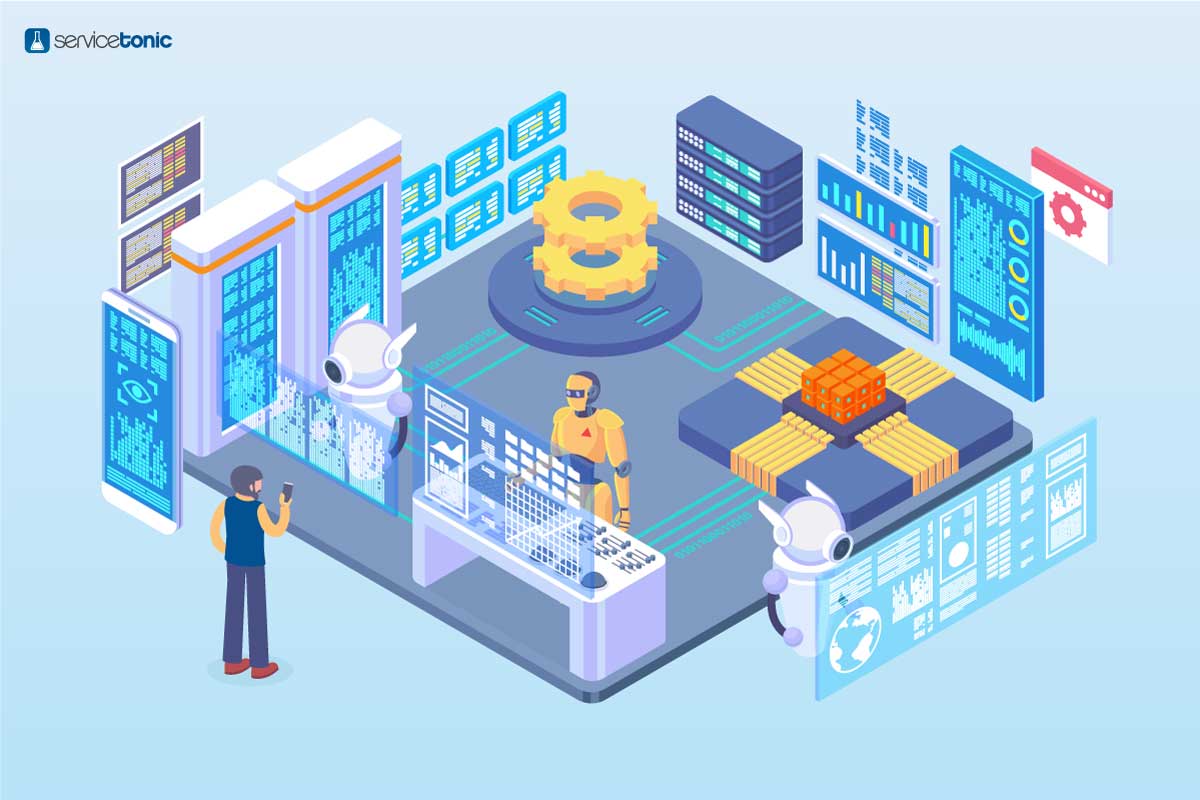 Benefits for companies with process automation
Benefits are manifold:
Quick responses to customer and user requests
Avoidance of human errors during these processes that were previously performed manually
Time optimization
Agents dedicated to more productive tasks
Increased customer satisfaction.
Standardization of processes
What processes can be automated with Service Desk software?
The tools provided by ServiceTonic© Service Desk to automate processes benefit all departments of a company, such as IT or Customer Service.
These tools help users and customers solve problems with quick responses, which helps improve the customer service experience, reduces waiting times and allows agents to focus on more productive tasks.
Let's see which process automations ServiceTonic© offers:
Chatbot
ServiceTonic© has launched its own chatbot, which allows its customers to get quick answers to their most common questions.
With the chatbot it is possible to:
Consult the knowledge database depending on the nature of the query
Access a predefined URL in the options provided to the customer
Create tickets that include the entire conversation between the bot and the customer, so the agent knows what the customer's needs are
Refer the conversation to an available agent, this is the last option and is offered when the customer no longer finds any answer in the bot that satisfies his queries
The chatbot can be included both in the corporate website and in the user portal, and its language will depend on the language of the browser.
Its goal is to improve the customer experience.
Learn more about ServiceTonic's chatbot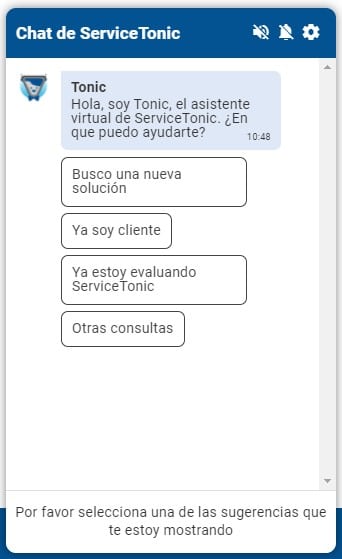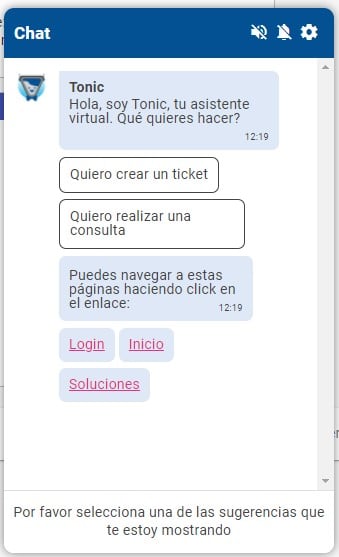 Ticket prioritization
It is possible to create this automation to set an automatic value in a "result" field depending on what has been defined in one or more "decision" fields.
This determines the priority that a ticket will have when it is resolved.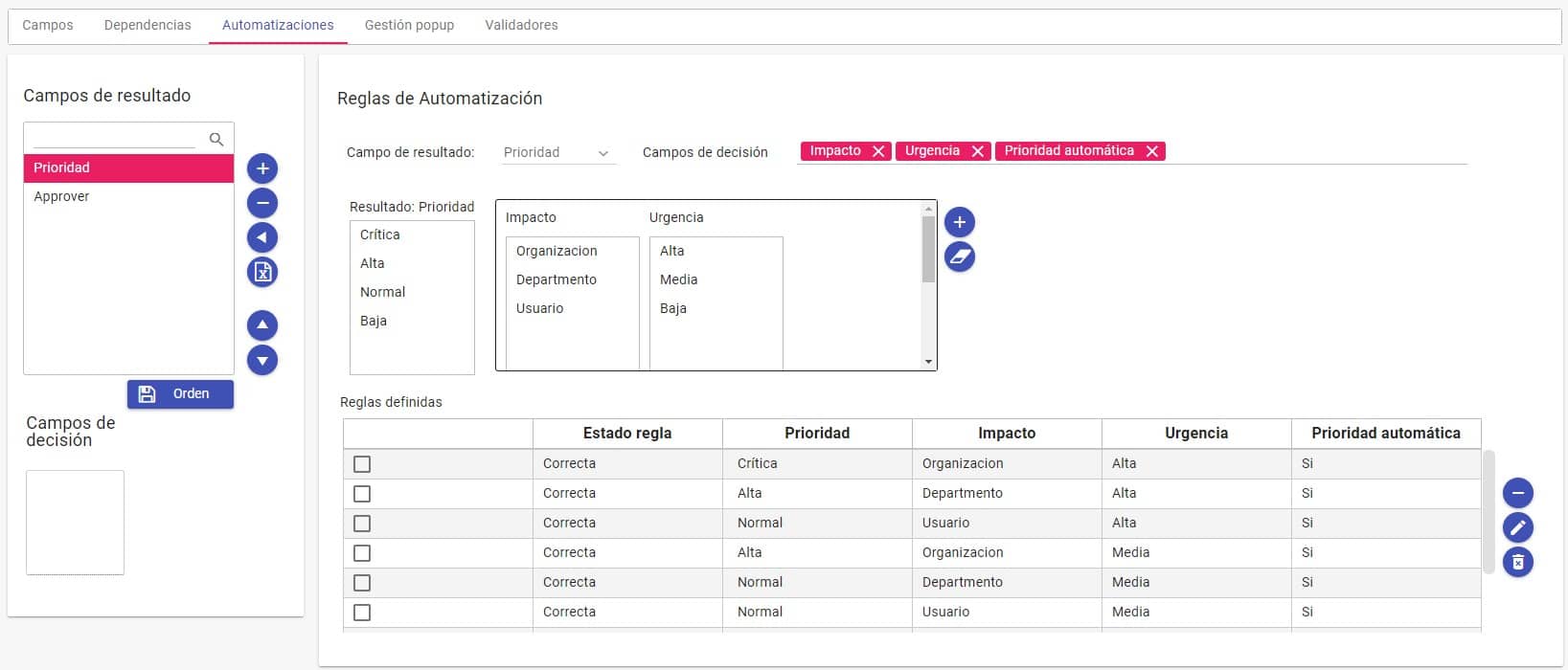 Business rules
With business rules the possibilities of process automations grow exponentially.
ServiceTonic© allows you to set the execution triggers:
When should the business rule be triggered: on ticket creation, on ticket modification, manually or when the ticket meets certain criteria
How long the rule remains active: from Monday to Friday, all week long, at what times…
The number of repetitions for the rule activation
You can also define the selection criteria:
For example, you can define to which agent a ticket will be automatically assigned given a specific status

And finally, you can define what actions this business rule will perform:
You can send an email as a notification to a given email, with a given HTML template, or to the contact, assigned agent, supervisor, team leader or owners assigned in the ticket. You can also specify whether the recipient of the email can add a reply to the email or not
Generate alert: depending on the values set, the specified receiver will receive an alert at the top of ServiceTonic, notifying the action on the ticket

Learn more about our business rules.
Predefined responses
Another process automation that you can find with ServiceTonic is the creation of predefined responses that can be associated in the ticket action field.
This allows you to associate previously created responses in the application with ticket actions.
For example, it is possible to define a response to notify the customer or user that the ticket has been successfully received and that they are working on its resolution.

Learn more about predefined responses automation process.
Satisfaction surveys
Customer and user satisfaction is essential for the proper functioning of any company, for this reason, ServiceTonic© allows you to send satisfaction surveys to your customers in order to learn about their degree of satisfaction.
Automate the process and send personalized surveys to your customers based on established criteria:
Sent when the customer links a specific status to the ticket
Sending every certain number of closed tickets
Sending every certain number of days
Sending only on certain days of the week
Learn more about the different types of ServiceTonic satisfaction surveys.
Automatic signature
In the user preferences you can create a personal signature, which can be added automatically to the tickets or manually added by the agent when appropriate.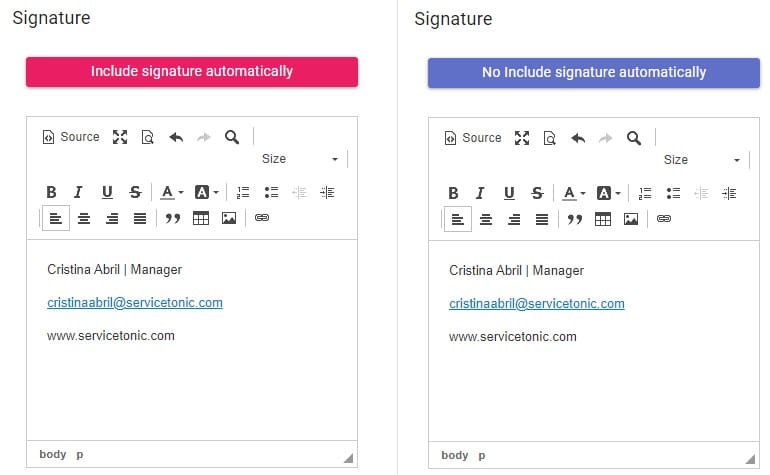 Learn how to create and add the automatic signature in our post: Agent signature
The combination of predefined answers together with the agent's signature will allow you to answer tickets opened by your customers and users in a matter of seconds.
Service Catalog
Thanks to the service catalog, accessible from the user portal, both users and customers will be able to access all your services while also being able to automatically request them from agents.
Learn more about the service catalog offered by ServiceTonic.
You can learn more by reading the following articles:
Automating processes is possible with ServiceTonic
Contact a ServiceTonic agent and find out which processes will help you automate processes in your company.