Agreements to meet customer's expectations
What is a Service Level Agreement?
A Service Level Agreement (SLA) is a contract that describes the level of service a customer expects from his or her provider.
SLAs are used to establish measurable indicators of the service we provide thus ensure compliance with the expectations of our customers.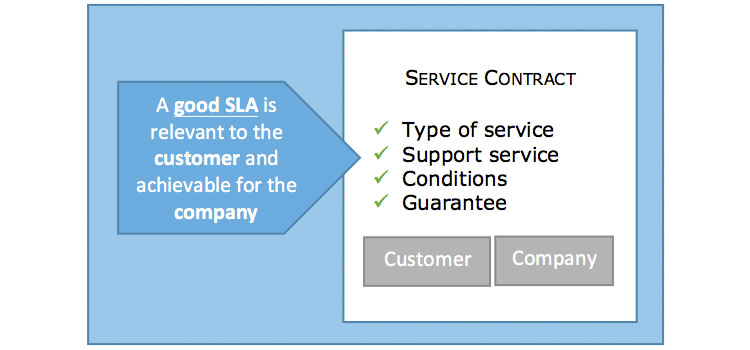 Service Desks such as ServiceTonic allow automating Service Level Agreements, making it easier to assign each ticket a priority or resolution time determined by the type of SLA.
Types of SLAs
ITIL defines 3 types of SLA:
Service-based SLA
Applies a standard SLA to all customers that contract the same service. It is useful when our company offers several services with different resolution and response times.
For example, Premium or Standard services, incidence-kind or request-kind services, or any other distinction between services.
More Information Service-based SLA
Customer-based SLA
Applies to all contracted services by a customer, a group of customers or the same business area.
For example, you can set a limit resolution time for incidents regarding "Budget" while prioritizing those that come from the "Finance Department" or an external customer.
More information Customer-based SLA
Multilevel SLA
Combines service and customer SLA, and applies at a corporate level for all users in an organization too. Multilevel SLAs avoid duplication and incompetence between several agreements, making it possible to integrate several conditio