ITSM (IT Service Management)
ITMS or IT Service Management is the approach to deliver the right business value through IT solutions by implementing the right mix of People, Process and Technology. ITSM helps in making the connection between IT and the business strategy and helps an organization to understand the impact of IT on different business processes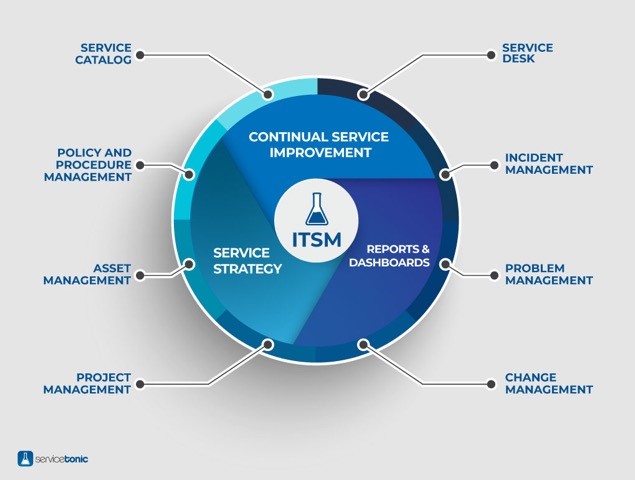 What do you need to implement ITSM?
The three key ingredients for a good ITSM implementation are:
People
People in this context are the end users (customers and employees), management and external service providers who use the IT services provided by the organization directly or indirectly.
Implementing ITSM will help define the right roles and responsibilities for each group of users, leading to a better understanding how each group can contribute. This will also highlight all the gaps in process capability and staff knowledge. Arranging the right training for your team could be the next step to bridge the knowledge gap identified.
IT Asset Management (CMDB)
Change Management
Technology
Providing the right IT services to the 'People' referred above in the modern enterprise is of utmost importance. This is where the organization needs to implement the right ITSM tool, that provides ease of process automation and an easy to use interface for both the agents/service providers and the end users. Automation reduces errors, brings consistency and measurability to services based on critical success factors.
ITIL and ITSM
The ITSM methodology of Service Delivery has been outlined in several global frameworks. However, the most popular one is ITIL (IT Infrastructure Library).
"ITIL advocates that IT services are aligned to the needs of the business and support its core processes. It provides guidance to organizations and individuals on how to use IT as a tool to facilitate business change, transformation and growth."– According to Axelos
The ITIL Best Practice Guidelines covered in detail in the 5 areas or core publications
Therefore, it is good to Identify an IT Service Management tool that adheres to international standards such ITIL.
Advantages and Benefits of Implementing ITSM
Defining service delivery goals to better manage user expectations and endeavor to meet them.
Define the list of services provided by the IT team and publish them as the Institutions IT Service Catalog
Forming knowledgeable support teams for different levels of support that is well trained around systems supported, have good communication skills and are enthusiastic about customer support.
Quick remediation of issues, early detection and prevention are some of the key benefits of a good ITSM implementation saving time of end users and reducing workload of the helpdesk.
Reduce cost of IT service delivery and increase availability and dependability.
Last but not the least, ITSM enforces compliance with different regulations.