Key features of good customer care software like ServiceTonic Help Desk
It does not take an exorbitant budget to find the best solution to provide customer service, it is enough to verify if a Help Desk fulfills the following 5 essential functionalities.
1. Centralizes incidents into a Single point of contact
It is imperative that the Help Desk centralizes all incidents in order to access them from a single point of contact (SPOC).
To verify that it is a useful system, make enables a multichannel support, so that our clients can make service requests from a call, an email or the web.
For example, ServiceTonic synchronizes with email for better tracking of each incident and also has a chat application that integrates to any web site.
2. Visualizes the service in Dashboards
The dashboards show the status of our service in real time. They should have variety and be flexible.
The variety of views allows us to have diverse types of graphs, lists, statistics, etc. To be able to visualize our service from different perspectives. The more variety, the more useful this feature will be.
Flexibility ensures that we can extract the data and indicators that interest us. According to our business objectives, we will need one type or another of information: the more flexibility, the more precise.
In addition to variety and flexibility, ServiceTonic also offers you the convenience of configuring your dashboards by dragging boxes, without any coding.
Dashboards help us keep our service under control. For example, in one of our previous post, we talked about how they help us distribute the workload of among agents evenly.
3. Automates work processes
Automation is a key feature of Help Desk software. It allows for accelerating resolution and response times and, as we talked in previous articles on automation, avoids errors, loss of information and optimizes the time of our agents.
Look at your supplier's automation features, they should help you meet the delivery deadlines and the quality parameters of your service:
Do you know if your Help Desk can automate and measure SLA? Ensure that your software allows you to monitor compliance with the response times agreed with customers by defining specific SLAs, notifications, etc.
And the automation of workflows? Systems such as ServiceTonic integrate a visual workflow designer with which you can draw the lifecycle that tickets must follow, so that actions and/or assignments are executed automatically when the status changes.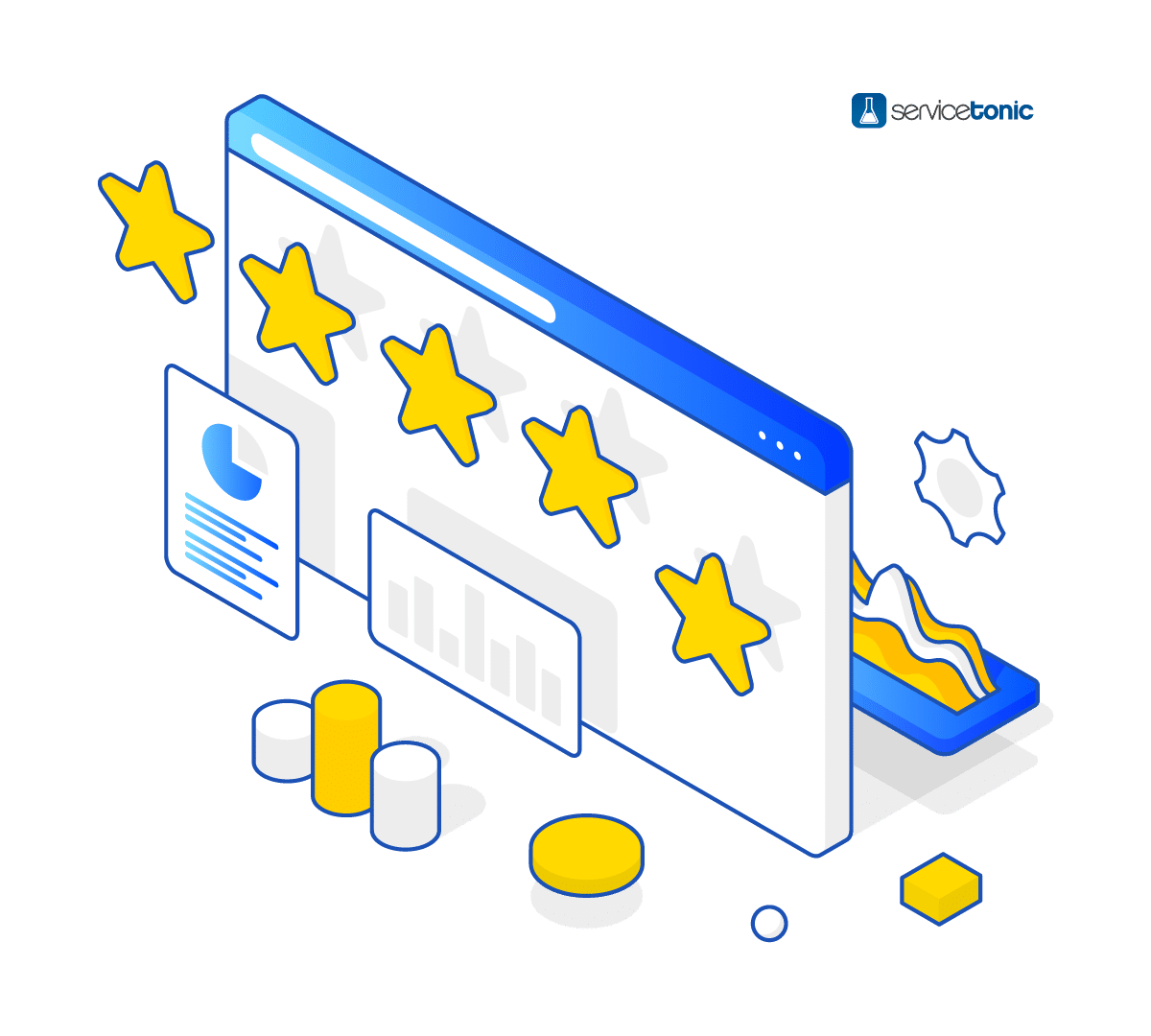 4. Facilitates self-service with a Web portal
The Web Portal provides self-service to clients or employees, who can request services through a catalog or consult information related to them.
In addition to making the service faster, the user gets a 24h service through the Web Portal, where to get information, make requests and check their status at all times.
5. Uses a powerful Knowledge base
The knowledge base is a database that stores, organizes and makes accessible the knowledge generated throughout the period that we provide service.
For example, a Help Desk agent can resolve an issue for the first time and save the response in the knowledge base. From then on, any agent in the same situation can access the solution from a ticket, and send the link of the solution to the client with just one click.
As well as speeding up the resolution and response process, it also helps our agents deliver a standard solution, offering a consistent and unified customer service.
The knowledge base is definitely a key to continuous improvement of the quality of our service.
These are the 5 key features of a Help Desk software, you can also see these and more features that ServiceTonic offers you to optimize your customer service.